Application Security Posture Management (ASPM) from Code to Cloud: The Business and Security Benefits eBook
"By 2026, over 40% of organizations developing proprietary applications will adopt ASPM to more rapidly identify and resolve application security issues." - Gartner, Innovation Insight for Application Security Posture Management (ASPM)
Constant innovation is the lifeblood of modern enterprises in today's technology-driven world—but securing the SDLC without disrupting the rapid pace of modern CI/CD and DevOps processes is challenging for application security teams. Code to cloud ASPM helps organizations overcome these problems and delivers immediate, tangible benefits for secure software delivery. But what does that actually mean for you?
Download the eBook to learn how code to cloud ASPM can quickly deliver tangible business and security benefits to your organization. It covers:
What ASPM is and why you need it

How ASPM delivers immediate, measurable value

How to get started with ASPM in 5 simple steps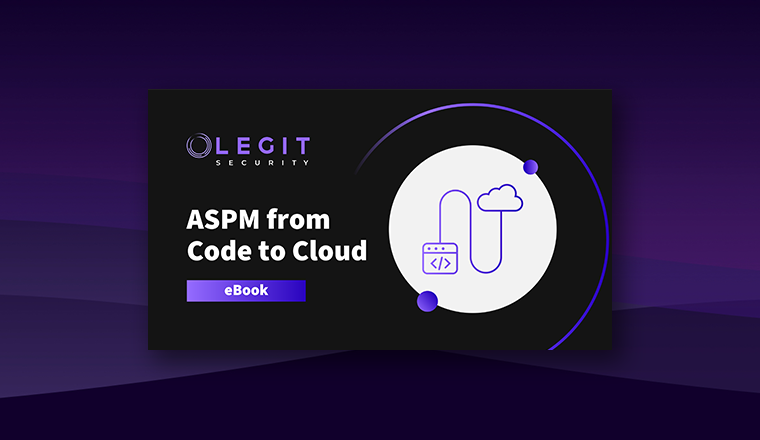 Why Legit Security
Make Your Software Factory Secure And Tamper-Proof
"We're now able to inventory all our SDLC systems and security tools, view developer activity, and detect and remediate vulnerabilities across them fast."
"Legit helps us secure our CI/CD pipelines including tracking the security posture of our different teams and workspaces, addressing SDLC configuration drifts, and helping us apply security resources where it can help us most."
"Legit Security's platform visualizes and analyzes our software pipelines quickly to help ensure security compliance with regulatory frameworks, as well as the unique compliance requirements of some of our large financial services partners."
"Legit is providing us with visibility across the entire supply chain, which helps us minimize risk and raise analyst productivity."
"Using Legit we immediately got a very clear status of the security posture in our pipelines, and saw where we needed to focus to improve our security."
Schedule a Demo
Book a 30 minute demo including the option to analyze your own software supply chain, if desired.