Protecting CI/CD Pipelines - Growing Threats and the Keys to Securing Them
Enterprises are increasingly implementing DevOps and CI/CD pipelines to dramatically accelerate the software development life cycle (SDLC), bringing new products online more rapidly, more efficiently and with less expense. 
But the dramatic increase in speed and automation from the combined practices of CI/CD also introduces new security threats, such as malicious source code tampering, exposed secrets, and 3rd party vulnerabilities that must be addressed at the same speed. 
CISOs and other stakeholders need to ensure that their applications are as secure during development as they are when they go into production. Join Liav Caspi and Chris Edmondson as we discuss:
Best practices for applying CI/CD security across the entire SDLC
Evaluating and implementing security tools that automate the security function
Developing a shared responsibility security culture involving all stakeholders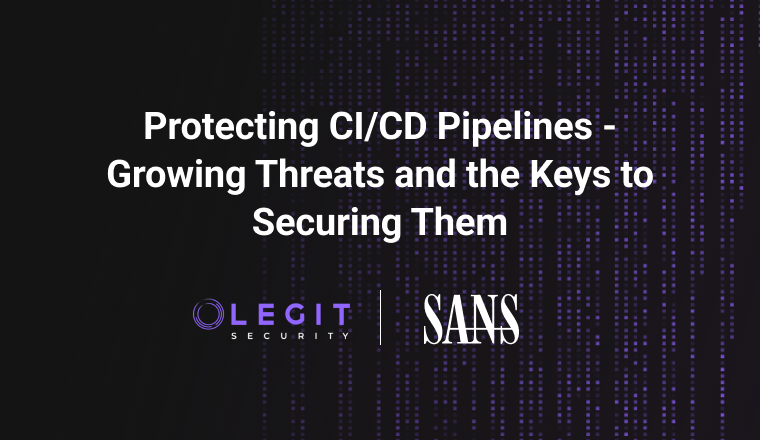 Why Legit Security
Make Your Software Factory Secure And Tamper-Proof
"We're now able to inventory all our SDLC systems and security tools, view developer activity, and detect and remediate vulnerabilities across them fast."
"Legit helps us secure our CI/CD pipelines including tracking the security posture of our different teams and workspaces, addressing SDLC configuration drifts, and helping us apply security resources where it can help us most."
"Legit Security's platform visualizes and analyzes our software pipelines quickly to help ensure security compliance with regulatory frameworks, as well as the unique compliance requirements of some of our large financial services partners."
"Legit is providing us with visibility across the entire supply chain, which helps us minimize risk and raise analyst productivity."
"Using Legit we immediately got a very clear status of the security posture in our pipelines, and saw where we needed to focus to improve our security."
Schedule a Demo
Book a 30 minute demo including the option to analyze your own software supply chain, if desired.