Application Security Posture Management: The New AppSec Revolution
ASPM is here to revolutionize AppSec for greater efficiency and effectiveness, and in a recent report, Gartner predicted that over 40% of organizations will adopt ASPM by 2026.
ASPM promises to solve issues organizations have been experiencing – a lack of visibility into complex developer environments, siloed security responsibilities across multiple teams, and lack of context into security issues. All of this results in a strain on AppSec tools and an inability to assess and respond to risks.
As ASPM pioneers, we're excited to help you reap its benefits in your organization today. Watch our on-demand webinar as we share what ASPM is and how it can help you:
Eliminate inefficient security silos and boost team productivity.
Automate security controls so you can do more with less.
Improve prioritization in critical business risks to improve effectiveness.
Transform your SDLC into a secure SDLC, drive secure development practices, hygiene and prevent software supply chain attacks.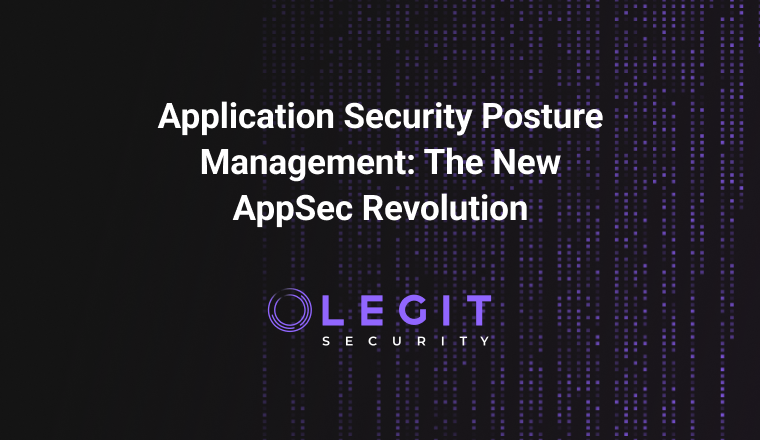 Why Legit Security
Make Your Software Factory Secure And Tamper-Proof
"We're now able to inventory all our SDLC systems and security tools, view developer activity, and detect and remediate vulnerabilities across them fast."
"Legit helps us secure our CI/CD pipelines including tracking the security posture of our different teams and workspaces, addressing SDLC configuration drifts, and helping us apply security resources where it can help us most."
"Legit Security's platform visualizes and analyzes our software pipelines quickly to help ensure security compliance with regulatory frameworks, as well as the unique compliance requirements of some of our large financial services partners."
"Legit is providing us with visibility across the entire supply chain, which helps us minimize risk and raise analyst productivity."
"Using Legit we immediately got a very clear status of the security posture in our pipelines, and saw where we needed to focus to improve our security."
Schedule a Demo
Book a 30 minute demo including the option to analyze your own software supply chain, if desired.