Protecting the SDLC: Modernizing Secure Software Delivery with ASPM
Garter's recent report on Application Security Posture Management (ASPM) includes a projected 40% adoption rate by 2023. But what's so transformative about ASPM and what does it mean for you?
Traditional AppSec tools fail to provide holistic visibility and security coverage across the entire SDLC, leaving an urgent need for ASPM to centrally manage application risks from code creation to runtime deployment. 
Join James Robinson, Deputy CISO and Director, Netskope and Liav Caspi, Co-Founder and CTO, Legit Security as they discuss the ins and outs of ASPM and how it delivers holistic security and true value. You'll learn: 
How ASPM's single pane of glass delivers critical visibility across the broad spectrum of AppSec solutions
Where ASPM fits in to modernize and improve software supply chain security 
How ASPM identifies security guardrail gaps, redundancies, cost savings opportunities, and areas in need of modernization 
The business value ASPM can deliver across security and engineering teams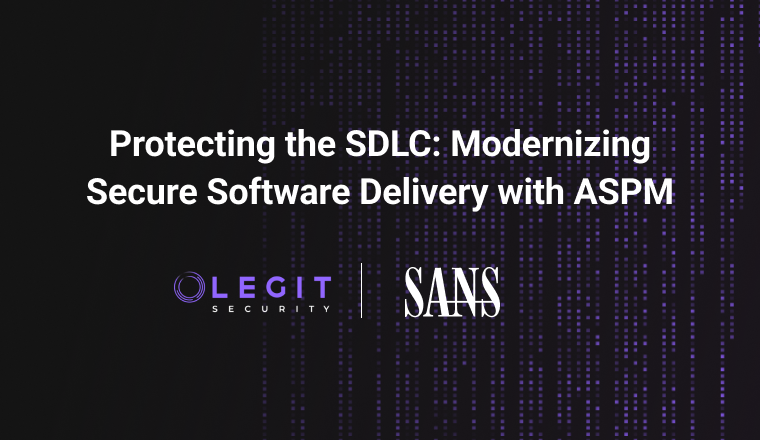 Why Legit Security
Make Your Software Factory Secure And Tamper-Proof
"We're now able to inventory all our SDLC systems and security tools, view developer activity, and detect and remediate vulnerabilities across them fast."
"Legit helps us secure our CI/CD pipelines including tracking the security posture of our different teams and workspaces, addressing SDLC configuration drifts, and helping us apply security resources where it can help us most."
"Legit Security's platform visualizes and analyzes our software pipelines quickly to help ensure security compliance with regulatory frameworks, as well as the unique compliance requirements of some of our large financial services partners."
"Legit is providing us with visibility across the entire supply chain, which helps us minimize risk and raise analyst productivity."
"Using Legit we immediately got a very clear status of the security posture in our pipelines, and saw where we needed to focus to improve our security."
Schedule a Demo
Book a 30 minute demo including the option to analyze your own software supply chain, if desired.