Top 3 Riskiest Software Supply Chain Attack Patterns
The software supply chain is a complex, rapidly changing and highly vulnerable attack surface. How can you best defend against the increasing threat of attacks?
To help you pinpoint potential vulnerabilities, we've identified the 3 riskiest attack patterns as identified by sources like MITRE ATT&CK.
Download our white paper to:
Learn the 3 riskiest software supply chain attack patterns
See how hackers exploit SDLC vulnerabilities using recent incidents like SolarWinds and Log4J
Get expert tips to reduce your software supply chain risk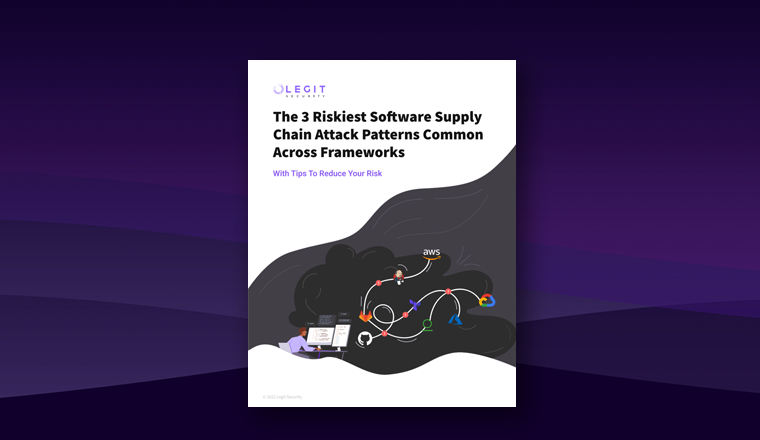 Why Legit Security
Make Your Software Factory Secure And Tamper-Proof
"We're now able to inventory all our SDLC systems and security tools, view developer activity, and detect and remediate vulnerabilities across them fast."
"Legit helps secure our CI/CD pipelines, tracks the security posture of our teams, addresses SDLC configuration drift, and helps us apply security resources where it can help us most."
"Legit Security's platform visualizes and analyzes our software pipelines quickly to help ensure security compliance with regulatory frameworks, including the unique compliance requirements of our service partners."
"Legit is providing us with visibility across the entire software supply chain, which helps us minimize risk and raises the productivity of our security analysts and developers."
"Using Legit we immediately got a very clear status of the security posture in our pipelines, and saw where we needed to focus to improve our security."
Schedule a Demo
Book a 30 minute demo including the option to analyze your own software supply chain, if desired.