What You Need to Know About the Software Supply Chain Regulatory Landscape and SBOMs
With an overwhelming number of new software supply chain attacks, security leaders are being forced to assess whether their application security programs are complying with the latest software supply chain regulatory requirements. Fortunately, industry leaders, governments, and the software security community have responded with haste to standardize and regulate the security of the software supply chain. As a security vendor, this guide covers important security regulation changes and essential items you need to know.
Download this guide to uncover the most important regulatory changes you need to know about and learn more about the essentials for:
US Executive Order 14028 (EO 14028)
Secure Software Development Framework (SSDF)
Software Bill of Materials (SBOM)
Information Security Compliance framework updates (PCI & DSS)
Supply Chain Levels for Software Artifacts (SLSA)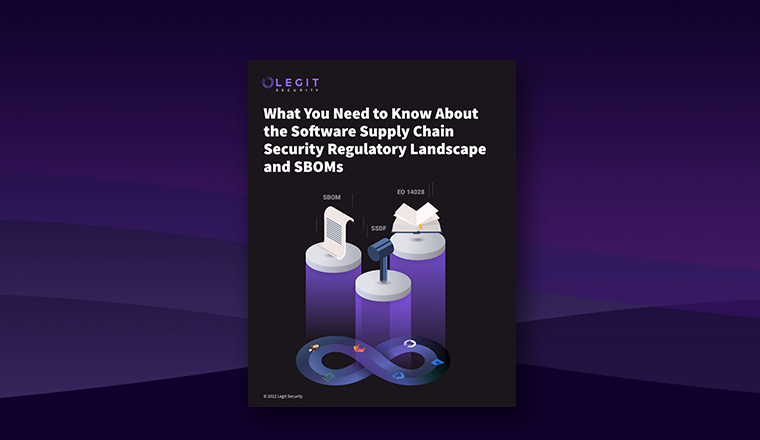 Why Legit Security
Make Your Software Factory Secure And Tamper-Proof
"We're now able to inventory all our SDLC systems and security tools, view developer activity, and detect and remediate vulnerabilities across them fast."
"Legit helps us secure our CI/CD pipelines including tracking the security posture of our different teams and workspaces, addressing SDLC configuration drifts, and helping us apply security resources where it can help us most."
"Legit Security's platform visualizes and analyzes our software pipelines quickly to help ensure security compliance with regulatory frameworks, as well as the unique compliance requirements of some of our large financial services partners."
"Legit is providing us with visibility across the entire supply chain, which helps us minimize risk and raise analyst productivity."
"Using Legit we immediately got a very clear status of the security posture in our pipelines, and saw where we needed to focus to improve our security."
Schedule a Demo
Book a 30 minute demo including the option to analyze your own software supply chain, if desired.